Spicy Fish Fry ( South Indian )
#1
Aug 2nd, 2005, 12:12
Maha Guru Member
Join Date:

Apr 2004
Location:

Bangalore
Posts:

1,509
Ingredients
Any fish in full or sliced
Chilli Powder
Coriander Powder
Salt
Lime
One large onion
Masala
Mix Chilli Powder, Salt, Coriander Powder with lime juice to make a paste.
Add more lime juice to achieve the consistency of a loose paste.
Procedure
1. Apply the masala to the surface of the fish and leave it for 1 hour.
2. Place Flat pan ( tava ) on stove and add 2 spoons of oil
3. As soon as the pan gets hot, drop the pieces of fish on it
4. Add more oil, if the pieces seem to get stuck to the pan. Fry for 5
minutes.
5. Reverse the direction of the fish / slices and leave for another 5
minutes
Note
( In these 10 minutes, the fish must be sufficiently cooked ). All the extra masala, if any is left over, can be added on top of the fish / slice,
while it is getting fried.
6. Remove fish and place on a plate.
7. Garnish with Onions chopped in the shape of rings and a slice of lime.
#2
Nov 1st, 2010, 14:17
Join Date:

Oct 2010
Location:

india
Posts:

62
#3
Nov 1st, 2010, 22:52
indianature
Join Date:

Feb 2008
Location:

Mumbai
Posts:

4,094
Quote:
I second that!
In coastal Maharashtra, turmeric powder is added [haldi], then it is dipped in rice flour then fried to give a crispy texture.
In Kerala, some places they marinate the fish also in ginger garlic paste and then fry it.
Wonder how the Bengalis do fish fry.
#4
Nov 1st, 2010, 23:44
Maha Guru Member
Join Date:

Sep 2008
Location:

42°21'N, 71°03'W
Posts:

2,595
Yes! Yummy.
Here are couple of recipes from south India (AP).
K i n g .. M a c k e r e l .. F i s h .. F r y
(also known as Seer Fish, Surmai (सुरमई) in Marathi, Vanjaram in Telugu, NeiMeen (நெய்மீன்) in Tamil, Aykkoora in Malayalam, Arkoli in Kannada).
C h a r c o a l .. G r i l l e d .. P o m f r e t .. F i s h.
King Mackerel Fry: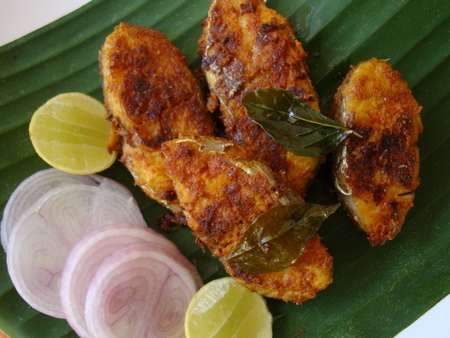 Grilled Pomfret: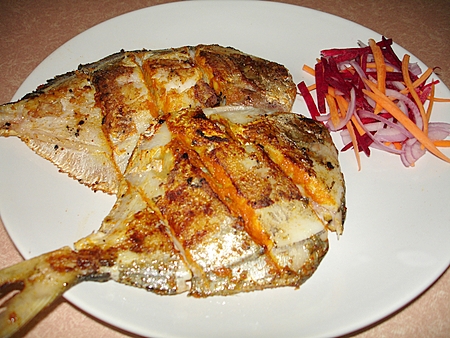 #5
Nov 2nd, 2010, 19:50
indianature
Join Date:

Feb 2008
Location:

Mumbai
Posts:

4,094
Double yummmm, RWe. That goes for Andhra food in general especially their chutnies.
#6
Nov 4th, 2010, 22:51
Join Date:

Oct 2010
Location:

india
Posts:

62