Kati Rolls and Street Food in Kolkata
By brishti. Created on Jul 1st, 2013. Last updated on Jul 8th, 2013.
Succulent. Nectarious. Luscious. Orgasmic. The Kolkata wrap.
The juices dribble down your chin. Greasy fingers. There's a crunch - yet it's soft. Relish what you hold in your hand. The flavours of tender meat entwined in a freshly fried parantha. You aint had nuthin, nuthin like it before. It's precious. Savour them bites. It's an unforgettable munch. The rolls call!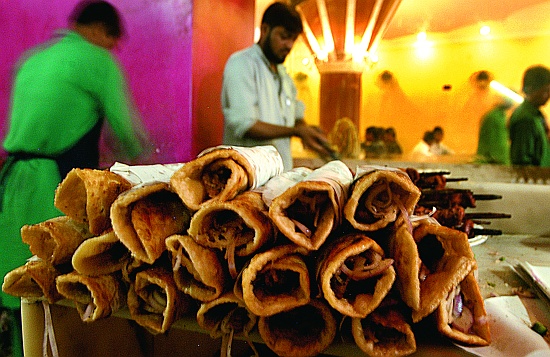 ​Them were the times, when after a night show at the movies, or after swinging at Park Street or just because one wanted to, at 2am - one went to Nizam's to have Kati Rolls for dinner. The place was always humming in them wee hours. Them were the times…
Nizam's, founded in 1932, was the birthplace and only mandatory-to-go for Kati Rolls. Nizam - yup, fit for any Nawab in the land. Sadly, the place and their Kati Rolls have not recovered after their union problems. Kusum, on Park Street - is the new kid on the block. They continue with the similar zest as Nizam's, to titillate, satiate and fulfil them desirous bites.
Read: Tips on Eating Street Food Safely in India
Vandy's on a roll!
Do's & Don'ts
Give it 10-15 seconds for the roll to cool a tad, before you take your first bite.
Have a handkerchief/tissue/some scrap of cloth to keep wiping the dribble off your chin - and to wipe your hands afterwards.
Eat the roll a tad away from your body. Don't want to soil that t-shirt, do ya ?
Watch when the man is laying out the roll - you gotta say 'nah nah nah' - if you don't want raw onions, bits of green chillies or the variety of 'sauces' [a recent addition - them sauces. tsk].
Find a quiet place to stand on the pavement - without somebody continuously bumping into you.
Nah nah - don't walk and eat. Eat. Then walk. What's the hurry ??
Try not to talk to your 'accompaniment' ;). Jeez - this aint a sit-down meal for two. Have someone by your side - fine. But the experience is solely individualistic.
Slowly, take it slow. Please do not gobble and gulp. Let them juices have the chance to mingle with each other. Synergise them senses.
What & How
It begins with a ball of flour-dough that is rolled out into a parantha (flatbread). This is fried in a pool of oil on high heat. Result - soft, flaky and crunchy on the edges paranthas.
It's custom-made - the parantha is either cooked plain or with an egg, or two (single/double andaa) on top.
You have a choice in the linear filling of kebab. Either chicken / mutton / paneer (cottage cheese) / just egg. This is layered with thin slices of raw red onions, green chillies, a dash of seasonings, sauces (??) - with a squeeze of lime.
The roll calls.
Have's & Why Not
Egg (andaa) roll - parantha fried with single egg + the layerings**
Chicken/mutton roll - no eggs. One sheekh of chicken/mutton + layerings**
Egg chicken or mutton roll - one egg fried with parantha + one sheekh of mutton or chicken + the layerings**.
Double Egg roll - parantha fried with two eggs + layerings**.
Double Egg/ double chicken or mutton roll - two eggs fried with parantha + two sheekhs of either chicken or mutton + layerings**… and so on.
Paneer Rolls have been introduced for them just-vegetarians - who want a twang in their tongue!
My personal favourite is the single egg, double mutton roll - one egg fried with the parantha with two sheeks of mutton + layerings**.
If it's your first time - I'd suggest a egg chicken or mutton roll. It's tastier, juicier and smoother with the egg than without.
** slices of raw red onions, green chillies, a dash of seasonings, sauces (??)
Read: Bong-kers over the Street Food in Kolkata.
Vandy's double egg double mutton roll!
Why & Therefore
The parantha has to just so. A lil thicker than usual - and must be fried in more-than-enough oil! This makes the parantha soft, crunchy at the sides and nary a hint of dryness.
Oh go on you, you're not having it everyday - gawddamit.
What makes the kebabs special are, they're grilled over a charcoal sigri. This makes the kebabs soft, moist with a hint of charcoal aroma.
The spices with which to marinate them kebabs are classified.
Kati Rolls are now available in most Metros in the land. Euckh is the word that comes to my mind when I have them, anywhere but in Kolkata.
You do not make rolls with Rumali Roti for chrissakes.
You do not heat the kebabs with some onion'y curry thingee.
… and excuse me - that parantha is so thin and dry.
Rolls at Bedouin, south Kolkata - are way below par too.
bleh.
Origins of the Kati Roll
This information is taken from all over the web.
As the story goes, a hurried British guest was once offered a kebab wrapped in a chapati by the cook. The guest loved it so much that the cook kept working on the idea till it eventually evolved into what we know as the roll today.
Another story says - the British sahib did not want his fingers messed whilst eating the kebab, hence asked the bawarchi (chef) to wrap it in a paratha.
In days of yore - Nizams had the kebabs pierced into iron rods before plunging them onto the charcoal. These iron rods lasted for generations.
As time went by - a cheaper and convenient substitute was discovered. Bamboo sticks. Kathi = sticks, in Bengali. Hence… Kathi or Kati! 'Kati' rolls gentler off the tongue.
Whatever the story - the Kati Rolls of Kolkata are the real McCoy - all others are mere wannabe's.
Latest comments for Kati Rolls and Street Food in Kolkata